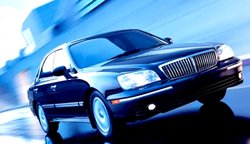 Download Hyundai XG250, XG300, XG350 service repair manual 2000, 2001, 2002, 2003, 2004, and 2005. This manual came with fully index. By having a reliable repair manual you not only save money but get to experience DIY repair your own vehicle. A repair manual comes with comprehensive details regarding technical data, diagrams, a complete list of car parts and pictures. Even the most novice car mechanic can easily follow the step-by-step guides which are made simple by the illustrations and drawings.
Engine: 2.0L / 2.5L / 3.0L / 3.5L
Transmission: Automatic / Manual
Hyundai XG250 XG 250
Hyundai XG300 XG 300
Hyundai XG350 XG 350
NO shipping charges, NO waiting, Instant Download.
Hyundai XG350 Manual covered all these section, contain hundreds of photos and repair instruction:
– General Maintenance
– Troubleshooting
– Engine Service / Repair
– Transmission Service / Repair
– Brake System
– Electrical System
– Suspension
– Wiring Diagram
– Periodic Lubrication
– Steering
– Cooling System
– Fuel Injection / Fuel System
– Emission System
– Heater/ Air Conditional
– Engine Control System
– Chassis / Body
– Restraint System
– Interior
– Differential / Drive
– Axle
and more…
File Format: PDF
Language: English
Printable: Yes
Index Mode: Yes
Requirement: Adobe Reader
Compatibility: Windows/ Mac and Linux OS
We 100 Guarantee You Will Love It!!!